Franken with TKB Star Bite 'Cherika Moon'
I finally got to franken some polishes with the pigments I bought from
TKB Trading
. I was at a loss where to start with so many awesome-looking pigments!! Because the
Star Bites collection
only has 3 pigments, that's what I chose to franken with first.
Here I'm showing you my franken using 'Cherika Moon' pigment mixed with JOSS suspension base. One thick coat over two coats of Essie Licorice. I can't express how much I love this one. The colour of the blue is so deep and beautiful (the photo doesn't do justice at all) and the colour shift from blue to purple is so obvious.
This is not glitty at all and super shiny even without top coat. So impressed with JOSS suspension base and of course the TKB pigments.
TKB Trading
のピグメントで作ったフランケンを早くご披露したくて仕方ないカシスです(o^∇^o)ノ 先日ご紹介したようにちょっとずついろんな種類のピグメントが入ったSamplerを買ったので、38種類ものピグメントが手元にあることになります。さぁ、どれから作ろうか?
まず目を付けたのが一番種類の少ない
Star Biteコレクション
。3種類あっていずれもDuochromeです。これを3ついっぺんに作ったので、これから3回にわたって1つずつご紹介していこうと思います。
Star Biteコレクションは少し粗めのGlass fleckピグメントで、以下の3種類から成ります。
Cherika Moon - 青~紫へのカラーシフト
Shanira Sun - 金~緑へのカラーシフト
Marinda Star - 紫~金へのカラーシフト
今回ご紹介するのはCherika Moon。Suspension Baseをボトル半分注ぎ、ストローの先を斜めに切ってCharika Moonのピグメントを少し乗せ、それを2杯ぐらい投入。
フランケンするときの基本は「
材料を少しずつ投入
」すること。ピグメントはほんの少し入れただけで抜群の効果を発揮するので、少し入れては爪やスティックに試し、ちょっとずつ調整していくとよいと思います。大量に入れすぎてしまうと、当然ですがSuspension Baseから取り除くことはできません。
爪に塗ったのがこちら。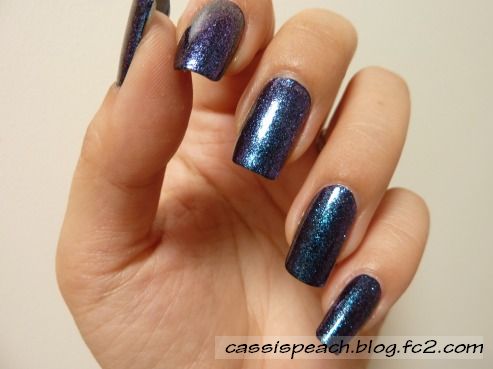 Essie Licorice(黒)2度塗りの上にFrankenを1度塗り。塗った瞬間、
「・・・・・・・・・好き(ポッ)」
と自分の作ったポリッシュに告白しておりましたw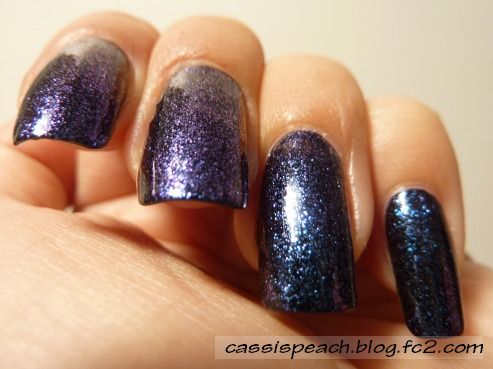 指を傾けていくと小指から人差し指に向かって青~紫が出てくるのがお分かりでしょうか↑。これは室内の陽の当たる場所にて。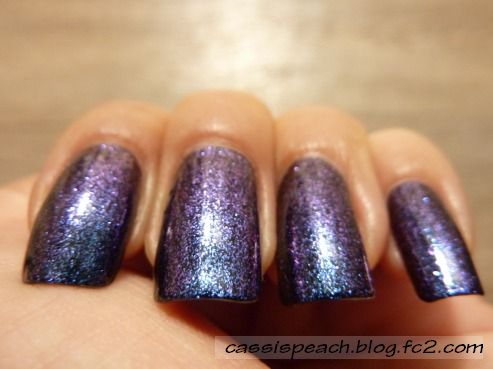 陽が当たる場所では青が強く出ますが、日陰では紫がはっきりと見えるようになります。ちなみにFrankenの名前ももちろん付けましたよ。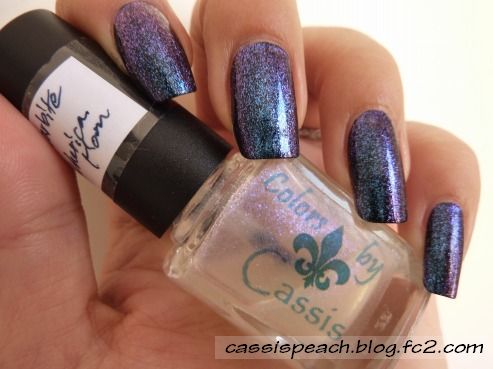 Cherika Moonというピグメントから生まれたので「月」にちなんだ名前をと思って付けた名前。
朧月夜(おぼろづきよ)
ええ、ええ、和名でなんとか頑張って行きますよ[壁]・m・) プププ
JOSSのSuspension Baseですが、トップコートを塗らなくてもツヤツヤテッカテカ。OZのFrankenerたちが絶賛している理由が分かった気がする。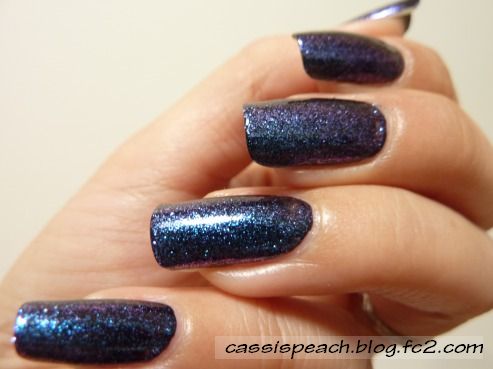 ちなみに
前回のFranken
からラベルの色を少し変えてみました。ポリッシュの色に合うように何種類か用意。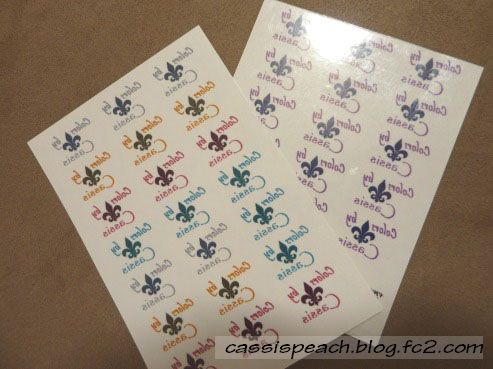 外でも撮ります。陽の当たる場所にて。外だと青が強く出てかなりキラキラします。月夜よりもむしろ「深海」を思わせる深い青。
こちらも同じく屋外なのですが、直射日光の当たらない場所にて↓ なかなか実際の色と正確な色が写せないな~と悶々としていたのですが、こんな感じのティールに近い青です。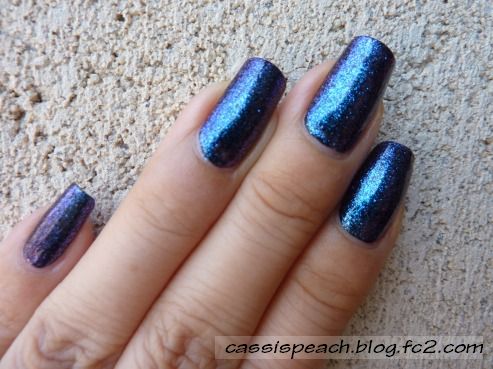 青と紫の両方の色を1つの爪で撮ったどー(゚∀゚) 写真に撮るのが難しいだけで、実際目の前ではめまぐるしく色が変わります。Duochromeのコレクションを「カメレオン」と名付けるポリッシュブランドもありますが、まさにその名の通り。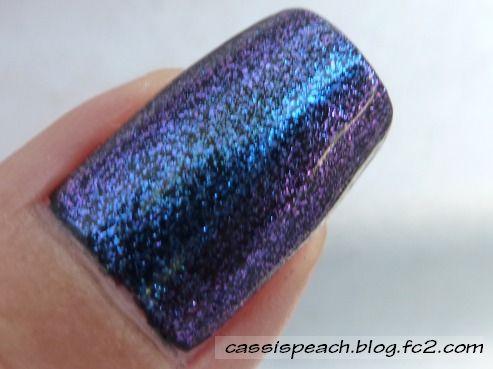 室内に戻ってもう少し撮ってみました。この写真↓の中指を拡大すると、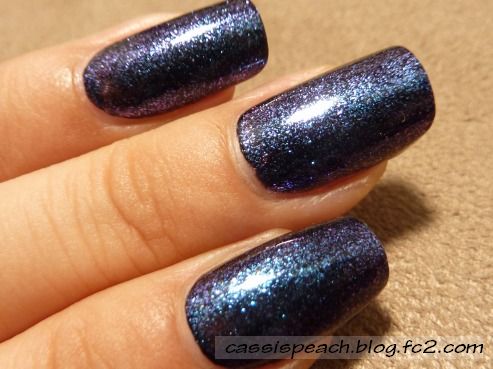 こんな感じ。Glass fleckの質感がお分かりいただけるでしょうか?光に反射するとキラキラしてたまらんです(*´д`*)ハァハァ ちなみにザラつきはまったくありません。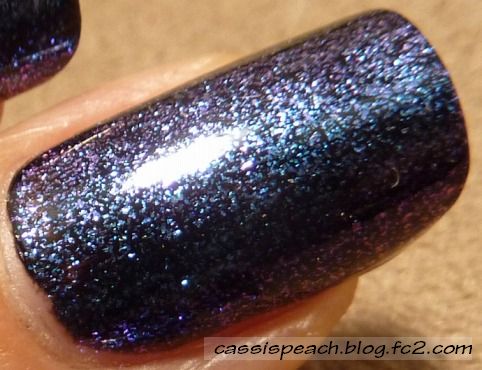 屋外、室内でも飽き足らず、水中でも撮ってみます。Duochromeは水中で撮るとかなりエフェクトがはっきり表れると聞いたことがあるので、透明のコップに水を張って指を突っ込んでみました。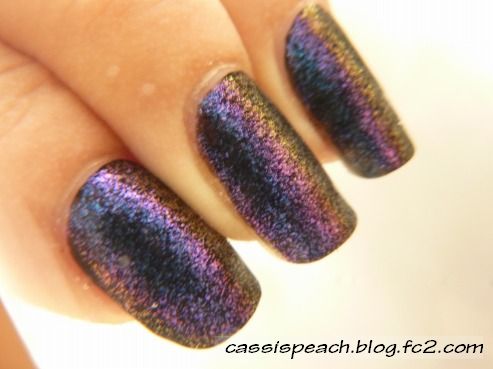 やや、不思議ですねー!水中でしか出てこない金色が出現しました。そういえば、
TKBのサイトのCherica Moonの説明
では「blue, to purple, to red orange」へのカラーシフトって書いてありますね。red orange?と首をかしげていたのですが、これのことか!
ちなみに
前回の記事
でCND Effectシリーズの話を出しましたが、この朧月夜は
Sapphire Sparkle
にかなり似ていると思いました。Effectシリーズで一番欲しかった筆頭がSapphire SparkleとAmethyst Sparkleだったので、自作できて嬉しい限りヾ(〃^∇^)ノ
そんな感じで、Star Biteの'Cherika Moon'ピグメントから生まれた「朧月夜」の紹介でした(o^∇^o)ノ 前回同様、Suspension Baseにピグメントをちょっと混ぜるだけの超簡単お手軽フランケンの割には出来栄えに大満足\(^o^)/
残りの2つのピグメントも次回ご紹介します♪